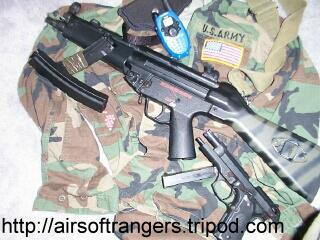 Great Design and Look
Come on everyone's heard of the H&K MP5.... used by S.W.A.T, Navy SEALS, and Special Forces, the MP5 has earned a special place in everyone's heart. It is what some people call the ultimate CQB weapon. It is featured in tons of films and is used in the Law Enforcement agencies of more than fifty nations. Tokyo Mauri makes quite a few of the MP5 style guns, along with the MP5A4, there is the MP5A5, MP5 SD6, MP5SD5, MP5K, MP5 PDW, and now the new MP5 R.A.S. which features a PDW stock, red dot scope, and R.I.S system.
The MP5A4 is a great gun, a staple in every airsoft players gear. I've used it a couple of times and it feels great . The TM Version of the MP5 highcap holds 200 rounds, while the regular holds 50. The length of the gun is 680mm, and the standard motor is eg700. The Tokyo Mauri MP5A4 uses a 8.4v large battery.
Tokyo Marui's MP5 A series sports a plastic upper and lower receiver with integrated pistol grip, with the latter finished in textured matt black. A textured plastic fore-grip also allows the operator to comfortably aim the MP5. Metal parts are abundant and comprise the front sight assembly including sling mount, barrel lug nut, cocking lever, rear sight ring, rear sling mount, trigger, ambidextrous firing selector lever, magazine release switch, and magazine
Firing the gun feels great, the great design makes it easy to aim and accurate. It's very reliable and sturdy, and weights about 2 pounds. The battery for the TM A4 goes into the stock which is very convient. Great gun I've had tons of kills with this gun...love it.
This gun can be upgraded to the max! You can go from a S.W.A.T. look with a stock MP5 to a commando with an R.I.S, M203 Tac. Laucher, scope.. it goes on, very flexible. Also you can easily upgrade the interals as well from upgrading the FPS, to getting a full metal body kit for it.
Unfortunely we have to go to the bad part... this gun is pretty light, and most of it is plastic, still really durable though. Also range could be an issue, but that can be easily solved with upgraded FPS.
ROF: 10
Upgradability: 10
Comfort: 10
Balance: 10
Accuracy: 7
Range: 7
Mag Changes: 9
Looks: 9
Conclusion: Overall I would say it'll be a 9, mag changes are a snap, and it can be jacked up beyond belief... very comfortable, balance is great, accuracy and range... so/so... So you say to yourself don't get an MP5 because everyone has one.... well maybe everyone has one cause they are soooo great!